Charlie Chaplin success story
Childhood
Charlie Chaplin was born as Charles Spencer Chaplin on 16 April, 1889 in Walworth, South London. Charlie lived with his single mother and brother in the district of Kennington. His mother had no source of permanent income other than the occasional dressmaking and nursing that she did. So Charlie's family was always living in the midst of poverty and hardship. Charlie was sent to a workhouse at the age of seven because his mother was no longer able to look after him.
In 1898,  he and his brother were sent to Norwood School which was an institution meant for destitute children. His mother was sent to Cane Hill mental asylum as a result of developing a psychosis. She was in and out of the mental asylum till her death in 1928. For some time Charlie and his brother went to live with their father. But he had become a severe alcoholic and died two years later. His  brother joined the Navy whereas Charlie roamed the streets searching for food and a place to sleep.
Early Life
He joined the Eight Lancashire Lads clog-dancing troupe and toured English music halls for two years. He was appreciated for his dancing but he himself was beginning to show interest in performing comedy acts. He enrolled in theatre at the age of 14. He played various roles and was appreciated to start with. Then came the first call of destiny for this young boy. His act in the play 'Sherlock Holmes' was so appreciated by the public that he was selected to play the role in three nationwide tours. He stayed with this play for two and half years till he was 18.
Beginning
By now his brother had decided to pursue acting and had become a star in a prestigious comedy company. Sydney Chaplin managed to secure a role for Charlie in the play. Charlie started off by playing smaller roles but went on to star lead roles by 1909. In April 1910, his lead role in ' ' was highly appreciated and got him lots of attention from the press. Now he started off by joining a touring troupe for two years. He was highly rated by the viewers and this increased his popularity in North America.
Career
Now he was called up to act in a motion picture and made his debut in the 1914 movie, 'Making a Living'. Though Charlie did not like the humor that was used in films, he hoped it would be a platform for more good opportunities to come by. He was soon seen in his legendary character of 'The Tramp' in the movie 'Kid Auto Races at Venice'. Chaplin adopted the persona of the tramp in all his next films. But soon he was at loggerheads with the director and was on the verge of being fired.
But because he was in demand he was given a chance to direct a movie with an assurance of $1500 in case it failed. But the movie 'Caught in the Rain' directed by Charlie became a big success. Slowly Charlie's fan base was increasing. The comedy that he promoted was becoming popular with the audience.
Achievements
He now joined Essanay studio for $1,250 per week. Here he released his movies, 'A Night Out', 'The Champion' and the best of them was 'The Tramp' (1915). His popularity had sky rocketed by now. There was merchandise and comic strips of his characters sold in many shops. Now he had become a cultural icon in America. When he renewed his contract, he became one of the highest paid artists in the world when he agreed to work with Mutual Studios for an astonishing $670,000 per year.
His success continued with films like 'The Kid', 'The Gold Rush', 'City Lights', 'Modern Times' and 'The Great Dictator'. His persona was liked by people all around the world. His movies ran to packed audiences in more than 50 countries. He courted many controversies in his later career regarding his personal life. His aura will remain forever and cannot be replaced in the next 100 years of world cinema. He was a global icon who was able to relate with the common man and make anyone from a child to an old aged person laugh wholeheartedly at his various antics.
The Kid (1921)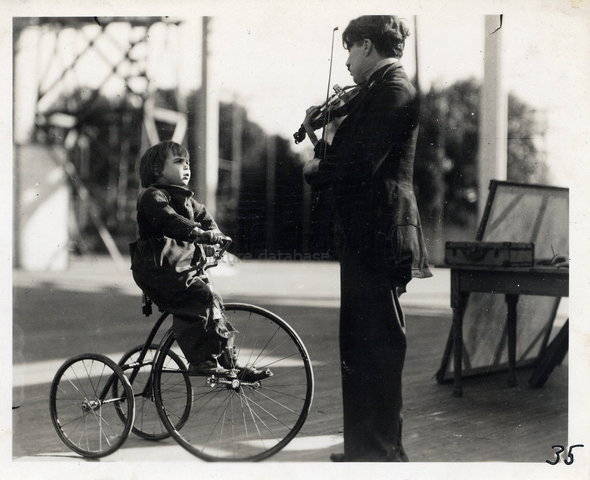 However, before he could assume his responsibilities with United Artists, Chaplin had to complete his contract with First National. So early in 1921, he came out with a six-reel masterpiece : The Kid, in which he introduced to the screen one of the greatest child actors the world has ever known – Jackie Coolant. The next year, he produced "The Idle Class", in which he portrayed a dual character.
The Circus (1928)
"The Circus" won Charles Chaplin his first Academy Award – it was still not yet called the 'Oscar' – he was given it at the first presentations ceremony, in 1929. But as late as 1964, it seemed, this was a film he preferred to forget. The reason was not the film itself, but the deeply fraught circumstances surrounding its making.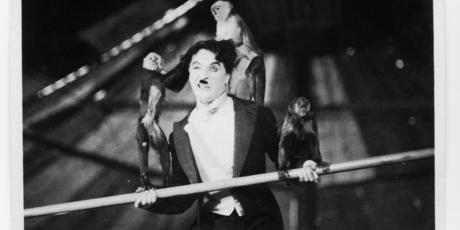 Chaplin was in the throes of the break-up of his marriage with Lita Grey; and production of The Circus coincided with one of the most unseemly and sensational divorces of twenties Hollywood, as Lita's lawyers sought every means to ruin Chaplin's career by smearing his reputation.
Modern Times (1936)
Chaplin was acutely preoccupied with the social and economic problems of this new age. In 1931 and 1932 he had left Hollywood behind, to embark on an 18-month world tour. In Europe, he had been disturbed to see the rise of nationalism and the social effects of the Depression, of unemployment and of automation.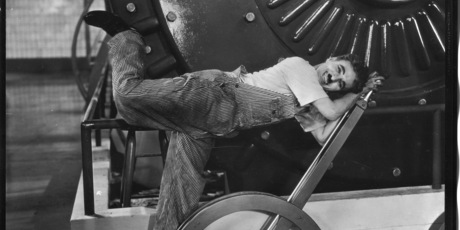 He read books on economic theory; and devised his own Economic Solution, an intelligent exercise in utopian idealism, based on a more equitable distribution not just of wealth but of work.
In 1931 he told a newspaper interviewer, "Unemployment is the vital question . . Machinery should benefit mankind. It should not spell tragedy and throw it out of work".
---